How It Works
Create
a phone conversation script in our constructor
You receive a detailed analysis of the efficiency of your scripts and operators
Sales efficiency
ramps up
It's free to try. No credit card required.
Key functions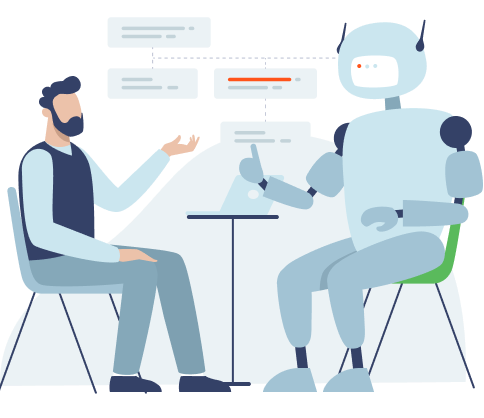 Artificial Intelligence as an Assistant
Create scripts faster and easier
Creating effective sales scripts is a complex process that requires a lot of time and effort. HyperScript solves this problem by providing a powerful AI-tools that help generate script step texts and objection lists.
By using artificial intelligence, you can significantly increase the efficiency of your work by reducing the time for script development.
No training required
Intuitive interface
The interface is a management tool and we have a really good one. We have taken into account the wishes and feedback from our clients - entrepreneurs, professional scriptologists, heads of sales and call-center departments and many others.
As a result, we have implemented this experience in the HyperScript interface.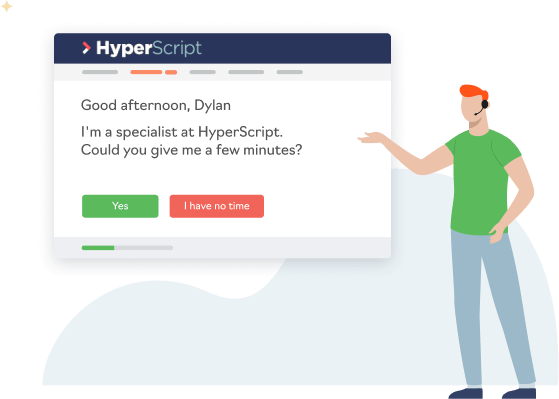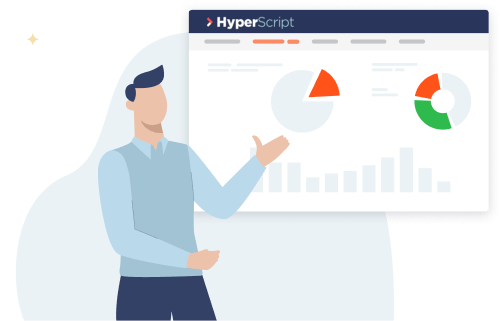 Effectiveness analysis system
Spin your scripts and sell more
Each time you pass a script, the system automatically collects statistics, turning it into summary reports on the efficiency of the script as a whole, its individual steps, the efficiency of operators, the percentage of achieving the goals.
Use this experience to improve your scripts and increase your sales.
Add customer data directly to the script
Built-in data input fields,
integrated in CRM.
The input fields are embedded directly in the script steps
It is convenient to use different types of fields for different data: text, list, checkbox date and others
The data is saved in HyperScript and can also be uploaded to Excel
And sent to your CRM, if you use it
Auto-substitution of data into the script from CRM
Address the client in person
HyperScript will automatically download client data from the CRM system directly into the script. This allows the operator to concentrate on the conversation with the client, rather than switching between systems in search of the right information.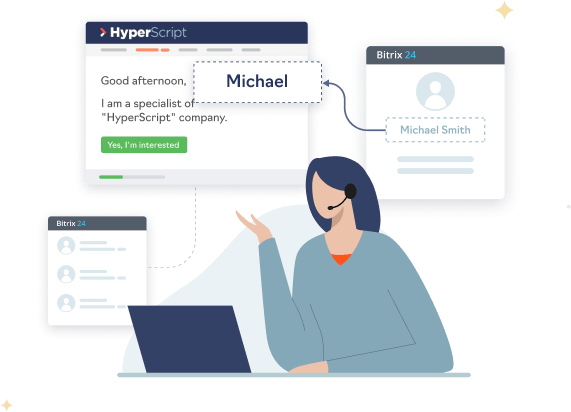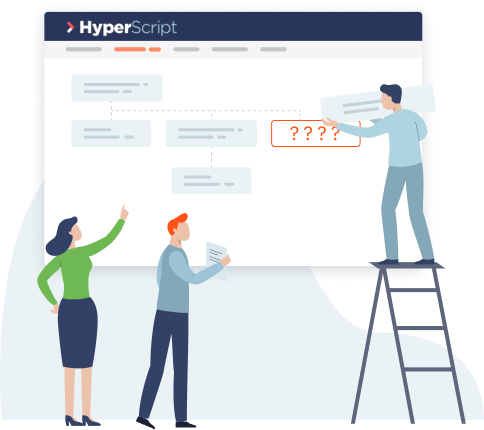 The "No response needed" function
Take into account the client's answers, not provided by the script
The script is not just a ready-made scenario of a conversation with a potential client. It is a tool, which is a whole algorithm of operator actions, consisting of possible questions and objections of the client with ready-made answers. It is important that the scripts are more precisely tailored to the target audience. In HyperScript, an operator can specify exactly what information is missing in the script right during a conversation. In the future, this will allow to correct the script and improve the efficiency of the conversation.
Fast transitions
Make the conversation more flexible
Sometimes the conversation suddenly passes to a completely different branch of the script. For example, it may be an objection or a question about price, like many other things. In HyperScript, you can mark quick transitions to switch between topics - the operator can instantly navigate and have a conversation, as it is convenient for the client.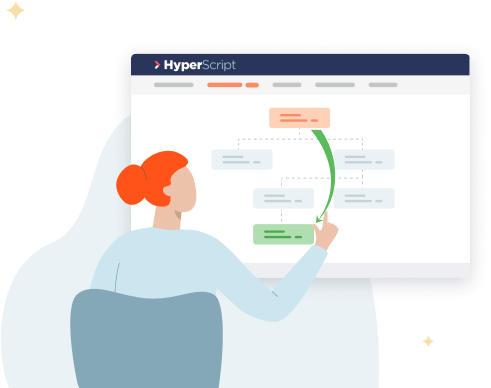 Our system has a developed API and can be integrated with all widely used CRM systems, including Pipedrive, Kommo, Bitrix24, and many others.